The Herkimer-Fulton-Hamilton-Otsego BOCES Pathways Academy at Remington quarterly award ceremonies continue to grow in student response and family involvement.
After more than two-and-a-half years of switching to virtual ceremonies due to COVID-19, the Pathways Academy returned to in-person award ceremonies for this school year starting with the first quarter awards. The second quarter ceremony took place on Friday, Feb. 17.
More students are interested in receiving awards, more awards are being given out and more parents and guardians are attending the ceremonies, said Pathways Academy teacher Erica Haver, who is a team leader for the Positive Behavioral Interventions and Supports (PBIS) program at Pathways.
"I feel it's due to our first quarter ceremony, and they're striving to do better and get more awards," Haver said. "Students continue to work hard. We hope to have even more for the third quarter."
The Herkimer BOCES Pathways Academy focuses on students who have had a difficult time in a traditional school structure or have to catch up on credits but have the ability to get a high school diploma. Pathways Academy classes are project-driven and infuse career and technical education.
The quarterly Pathways Academy awards were started in 2017 and are part of the school's PBIS program. The PBIS program includes various aspects including students earning "BOCES Bucks" for positive behavior that they can use on reward days to purchase items or experiences. Students earn 50 "BOCES Bucks" for every award they win.
Pathways Academy Principal Patrick Corrigan, who wasn't able to attend the first quarter ceremony, opened the second quarter ceremony by welcoming students and parents and guardians.
"This is my first one since before 2020, so I'm pretty excited for it," Corrigan said.
Corrigan said the event is to recognize students for their accomplishments academically and behaviorally. He also took a moment to point out that students are entering an important time of the school year, and parents and guardians can support their success.
"Let's work together and keep the students on track," Corrigan said.
Central Valley award winners
The following are the Pathways Academy award winners for the first quarter of the 2022-23 school year listed with the awards they won and their home school district in parentheses:
Anthony Albright (Central Valley): Math Award, The Superlative Scribe, Shows Initiative in FACS, Scientific Mastermind

Mason McNeil (Central Valley): Health Most Improved, Most Improved in Math, PE Special Award, Charger Feat

Conor Bluett (Central Valley): PE Most Improved, Exemplary Behavior Award, Resilient Feat

Noah Hand (Central Valley): The Adept of Auditory Academics, Math Brain Award

Michael Grecco (Central Valley): PE All-Star, Math Participation Award, Service All-Star, Hardworker in Service, The Pundit of Purposeful Prose

Joseph Johnson (Central Valley): Geometry Award, Improvement on Star Testing, Observant Feat

Juliana Taratuchin (Central Valley): Geometry Award, Improvement on Star Testing

Garrett Klein (Central Valley): Most Improved PBIS Behavior, Geometry Award, Improvement on Star Testing, Critical Thinker, The Wizard of the Written Word
Aidyn Sellers (Central Valley): PE Most Improved, Health Credit Recovery, PE Credit Recovery

Franklin Smith (Central Valley): Art Peak Performance Award, Hard Working, Contributes Frequently in Classes, Respectful, Responsible, Always Positive, Helpful to Peers and Staff, ELA Achievement Award (80+), Geometry Award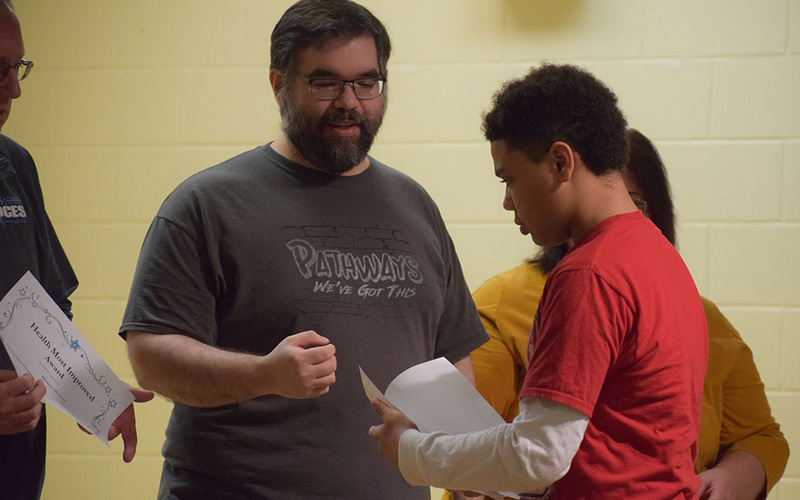 Pathways Academy student Mason McNeil of Central Valley accepts his certificates.

Pathways Academy student Adrianna Burris of Central Valley smiles after receiving her certificates.

Pathways Academy student Franklin Smith of Central Valley accepts his certificates.
(Photos courtesy of Herkimer BOCES)