On Tuesday, Feb. 28, Jarvis Middle School recognized students who demonstrated February's character theme—integrity.
To receive the honor, students must demonstrate integrity— the traits of honesty, truthfulness, doing the right thing, expressing gratitude for others, respecting yourself and others. Student names are announced over the daily announcements. At the end of the month, nominated students receive a certificate, gather for a group photo, and are entered in a prize drawing.
"Many of the students who were nominated this past month made great choices and were outstanding student-citizens," said Assistant Principal Luke Manolescu.
"It was wonderful to see the many teacher-comments highlighting what students were observed doing and what integrity stands for. After the recognition ceremony, students were selected randomly and given Jarvis Middle School T-shirts to show our appreciation for exhibiting positive behaviors and setting great examples. Mr. Pratt and I are very proud of them. "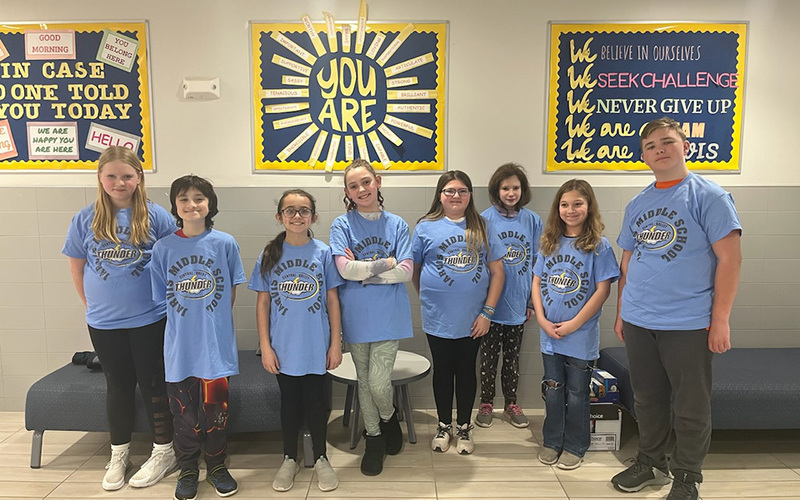 Fifth Grade
Peyton Andrews, Peyton Andrews, Brayden Crim, Aubrie Crozier, Dean Duryee, Hartley Edick, Chad Green, Hunter Keeler, Adalyn Klink, Bionca Prokopienko, Sophia Shepard, Yania Skeete, Katelynn Smith, McKenzie Waltermire, Ariel Wang, Rory Williams, Kayden Youker
Sixth Grade
Isabelle Buddenhagen, Olivia Day, Olivia Day, Sophia Dibble, James Duffy-Hoffman, Landon Fisher, Paityn Gatto, Avery Guido, Destiny Hopkins, Max Huffman, Brianna Lafountain, Brynlee Metott, Riley Moss, Aryana Ortega, Claire Rose, Vadim Tur, Liam Vandawalker, Hunter Wilson
Seventh Grade
Shelby Dewan, Jacob Hitchcock, Logan Johannssen, Shaun Lyman Jr., Madi Palmer, Tyler Perez, Quinn Pickett, Lindsey Praznik, Lilly Rappa, Brynna Scalise, Daniel Scott, Jr., Mason Waseleski, Landon Wilson-Gamble, Deven Windecker, Jacob Yager
Eighth Grade
Tylor Paw