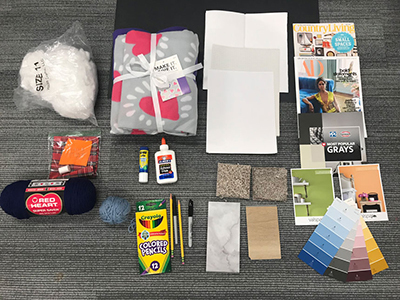 CVA Family and Consumer Sciences teacher Kathleen Deck faced a challenge. She had designed hands-on courses in which students learned to cook and create by doing. Her belief is that actually stirring the cake batter is a better learning experience than watching someone else do it in a video.
Then came COVID-19.
There were no more students in the FCS classroom, no one at the sinks or ovens. Instead, students were at home and many of them lacked the recipe ingredients or supplies needed for her lessons.
Deck was unwilling to throw the year away. If her students could not come to her class, she would find a way to get her class to the students.
She received permission from school administrators to put together 119 kits filled with ingredients or materials to complete lessons at home. Each grocery kit contains the staple ingredients to make 4-5 recipes. Each interior design kit includes materials to make a mood board, Elements of Design flip book, fleece blanket, hand-sewn pillow, pom-poms, and yarn wall hanging, and drafting paper for floor planning/interior styles collage.
The contents would normally have been purchased for use in class, so there was no additional expense to the district. The challenge, however, was purchasing the materials and assembling the kits.
Deck still had classes to teach. She could not simply cut out of school. So she spent nights and weekends purchasing, sorting, and packaging. Her husband helped with the shopping and transportation. Her 87-year-old mother helped her pack every bag.
"It takes a village to raise a great FCS student!" Deck said.
The school will work with families to make sure each student in the class receives the appropriate kit.
Superintendent Jeremy Rich said Deck's efforts reflect those of many Central Valley teachers.
"COVID forced our teachers to look for different ways to reach our students," he said.
"Kathleen Deck is a great example of how teachers are 'thinking outside the box' to deliver content. This is not a simple task. They are learning new technology and putting in extra time to create lessons that hopefully resonate with their students."