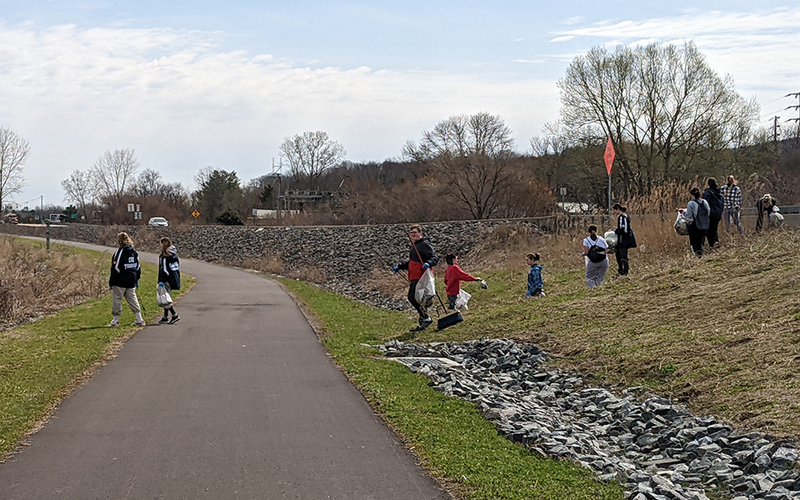 After weeks of planning and preparation The Ecology Club celebrated Earth Day on April 22 by taking a field trip and participating in a state wide trail clean-up day.
Do you know where your trash and recycling goes, or how it's processed?
Are pizza boxes allowed, what about cardboard from the freezer aisle?
The Ecology Club learned the answer to these questions and more when they visited the Oneida Herkimer Solid Waste Authority (OHSWA) recycling plant to learn about recycling efficiency, composting, and anaerobic digestion of food waste.
"To see how the recyclables are sorted on the conveyor belt is really amazing", said Club Advisor Krista Harwick. "There are lasers, and magnets!".
To learn more about what's recyclable and handling special materials visit https://www.ohswa.org/
Next, imagine walking into the forest and there is edible food everywhere. The students moved on to meet with local veteran Joe Pizzo who created the White Lion Edible Forest, a permaculture garden located on a formerly abandoned lot in Utica. Joe talked about how to carefully plant fruit/nut trees, shrubs and bushes to create natural spaces that are good for the environment, as well as serving as a food source.
The field trip ended at Common Thread, an organic vegetable farm in Madison that uses community sponsored agriculture sales (CSA) to grow and distribute food to over 600 local families, while also supporting local food banks and soup kitchens.
On Saturday the Ecology Club, with help from members of the National Honor Society (and Mrs. Connors), cleaned up garbage on the Canal Trail between the Ilion Marina and MOVAC in Mohawk. The Ecology Club recently adopted this trail segment, and was able to be a part of New York State's 2022 Canal Clean Sweep. The Canal Trail has become an internationally recognized tourist attraction that spans over 450 miles of New York.
"It's great to clean-up the trail that bridges our local villages, but also to create a clean trail for all the out of town cyclists", said Ecology Club President Morgan Herringshaw.
The Club plans to continue engaging with the local community and making improvements to this canal trail section in the future and we ask the entire district to help us keep it clean. Special thanks to Spohn's Disposal for helping discard the picked up trash!