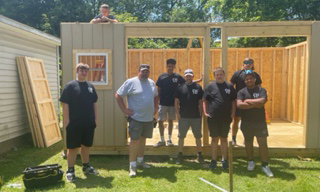 CVA's Construction Systems class put their skills to a practical test this spring, building an oversized shed for Calvary Cemetery in Herkimer.
Earlier in the year, Deacon Bower of St. Francis de Sales Church in Herkimer approached Construction Systems teacher Jon Cole with a specific request. The cemetery needed a 12 ft. x 20 ft. maintenance shed with 8-ft. sidewalls. The cemetery was willing to purchase the materials if the students would provide the labor. The students jumped at the chance.
The class had built sheds in the past, but never one this large. It would not be cost-effective to build the complete shed in the school and pay to transport it to the cemetery. Instead, the class decided to prefabricate individual components at school, then assemble them on-site at the cemetery.
Over four weeks, students drew up blueprints and put together a materials list. They broke into teams to measure, cut, frame, and sheath each components. Wall sections and precut rafters piled up in the technology lab.
The next task was delivery and assembly.
To avoid interfering with end-of-the-year classes and exam prep, Mr. Cole asked for volunteers to help tackle the job over the first three days of Regents week. Only those students without Regents exams were eligible.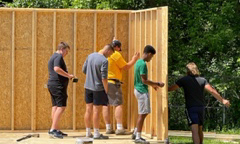 Janarious Howard, Anthony Crisino, Nick Demorest, Tyler Sawyer, Nathan Shaver, Cole Brewer and Aaxavier Howard stepped up with Cole, Nathan and Aaxavier making it all three days. Together with Mr. Paul and Mr. Cole, they put together the giant 3-D puzzle. They built the floor, set the components, installed windows and doors, and sheathed and shingled the roof.
In the end, the project was a win-win. The students had a practical learning experience and the cemetery received a well-constructed shed that will last for years.
"A special thanks goes to Deacon Bower for trusting that our kids could do this project and to retired Father Cunningham who treated our students to a free lunch…the kids appreciated it," said Mr. Cole.