Congrats to Cole Wheet (375 squat, 220 bench, 405 deadlift) and Carson Wormuth (365 squat, 205 bench, 420 deadlift) who both joined the the Fitness Center's 1,000-lb. Club in mid September! Trainers Justin and Liz Hoffman of Movement Strength and Fitness applauded the two students for their hard work and dedication in reaching this milestone.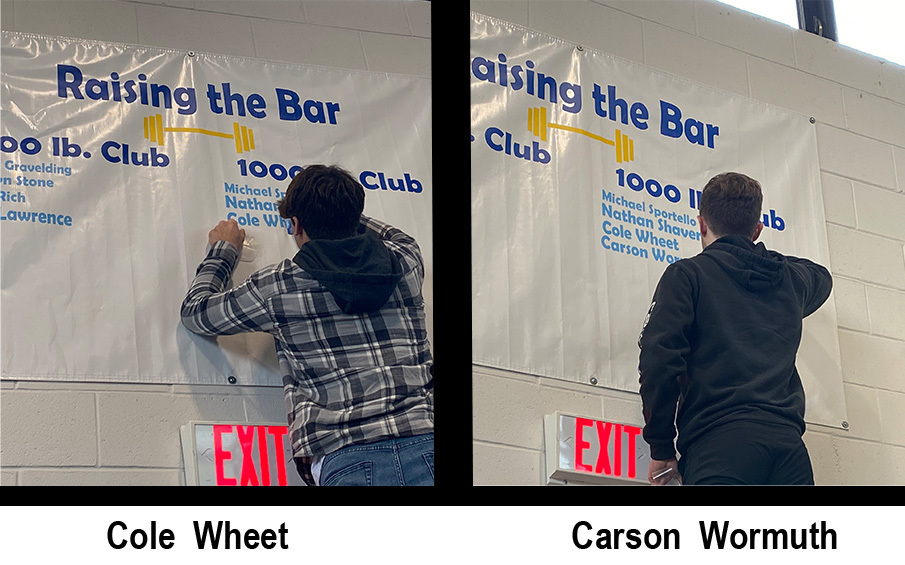 Congratulations to CVA senior Eamon Miller, who was named a Commended Student in the 2023 National Merit Scholarship Program. This means Eamon scored in the top 5 percent of the 1.5 million students who took the 2021 PSAT exam. After high school, he plans to pursue engineering.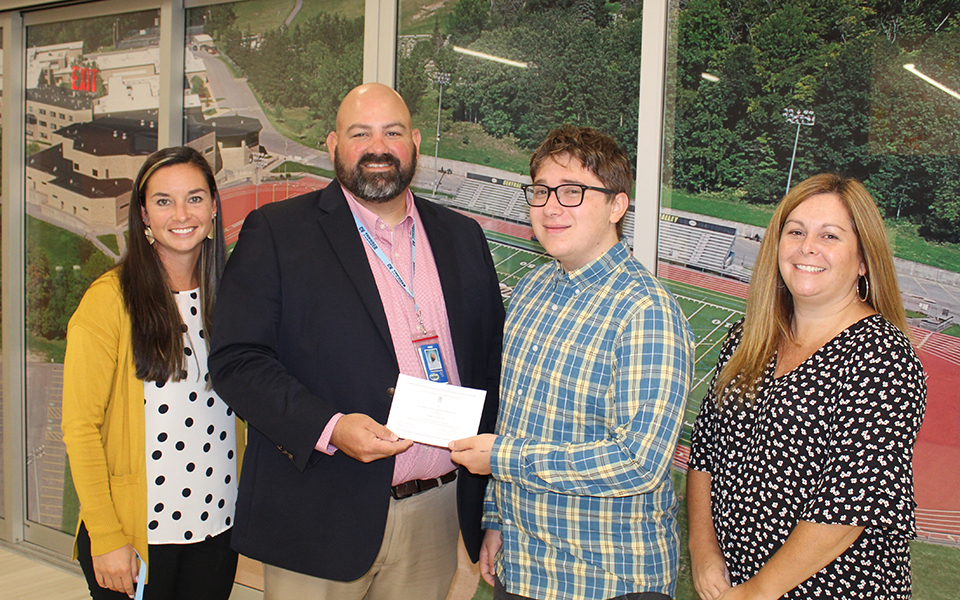 CVCSD is looking for an Account Clerk – 12 Month/Full time position (non-union); initial placement in Business Office. Civil Service classification required. Anticipated effective date is Oct. 17, 2022. Interested parties should indicate their interest in writing and submit a completed Non-Instructional Employment Application to Jeremy M. Rich, Superintendent of Schools, 111 Frederick St, Ilion, NY 13357 no later than Tues, Oct 4, 2022.

Come trick or treat at CV Connected Community School's free "Trunk or Treat," 5:30-7 p.m. on Thur., Oct. 27 in the Jarvis rear parking lot. Questions or to sign up your trunk - contact Ed at 315-985-0185.

At student request, the Student Fan section will be at the scoreboard end of the bleachers beginning at the Sept. 23 home football game. Keep cheering for the Thunder!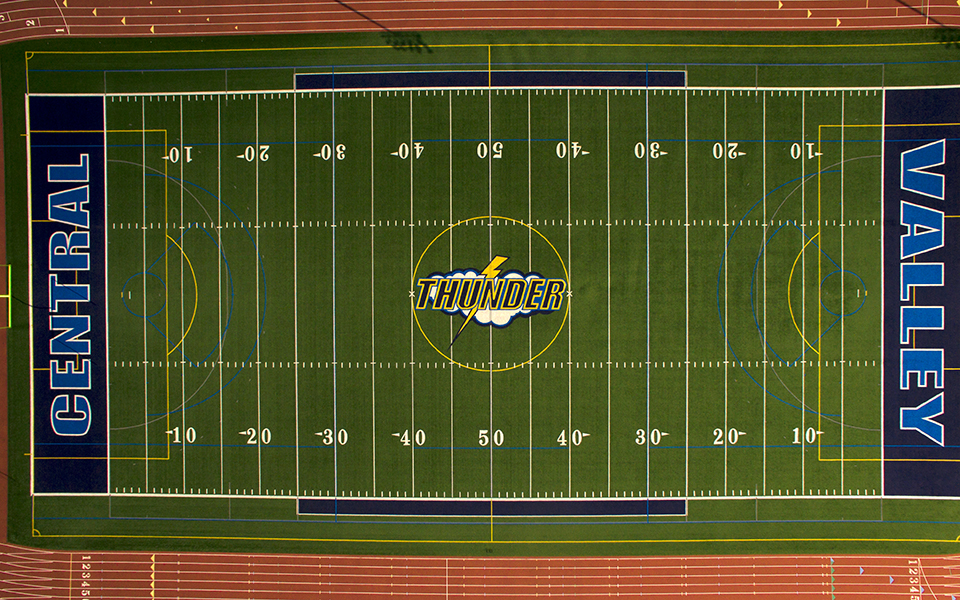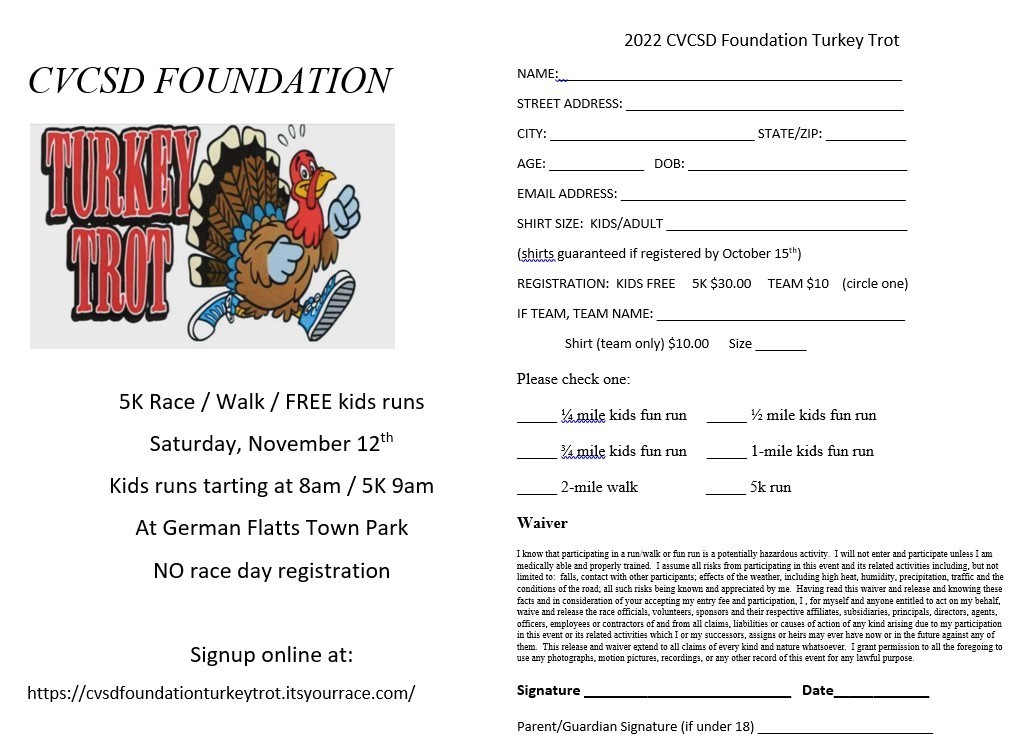 CVA Class of '24 Chicken BBQ, 11 a.m.-3 p.m. (or until sold out) on Sat. Sept 17 at Mohawk Antique Mall, 100 E. Main St., Mohawk. $15 for 1/2 chix, baked potato, coleslaw, roll, dessert. Advance sale tickets — call or text 315-717-4998.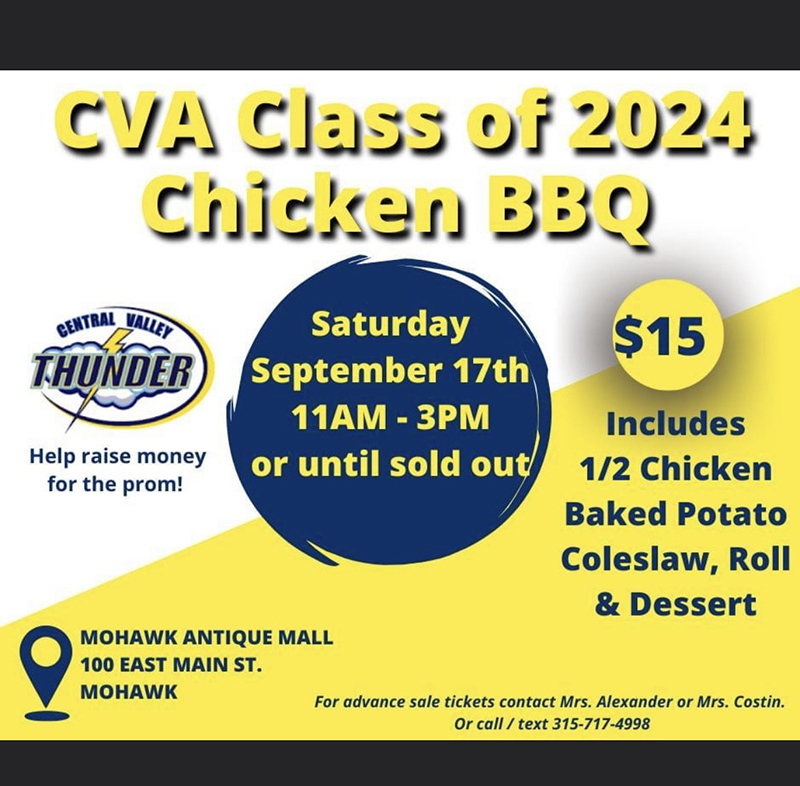 Attention Class of 2022. You can pick up your senior banner (that hung on the light poles in the village) 8 a.m-3 p.m. Sept. 19-23 in the CVA office. Unclaimed banners will be discarded.

Family Social Emotional Activity Night 5:30-7 p.m. on Oct. 5 at Barringer Rd. Elementary. Free—dinner, raffles, crafts, activities. RSVP 315-895-0908. Presented by CV Connected Community Schools and Cornell Coop. Ext. Project Thrive.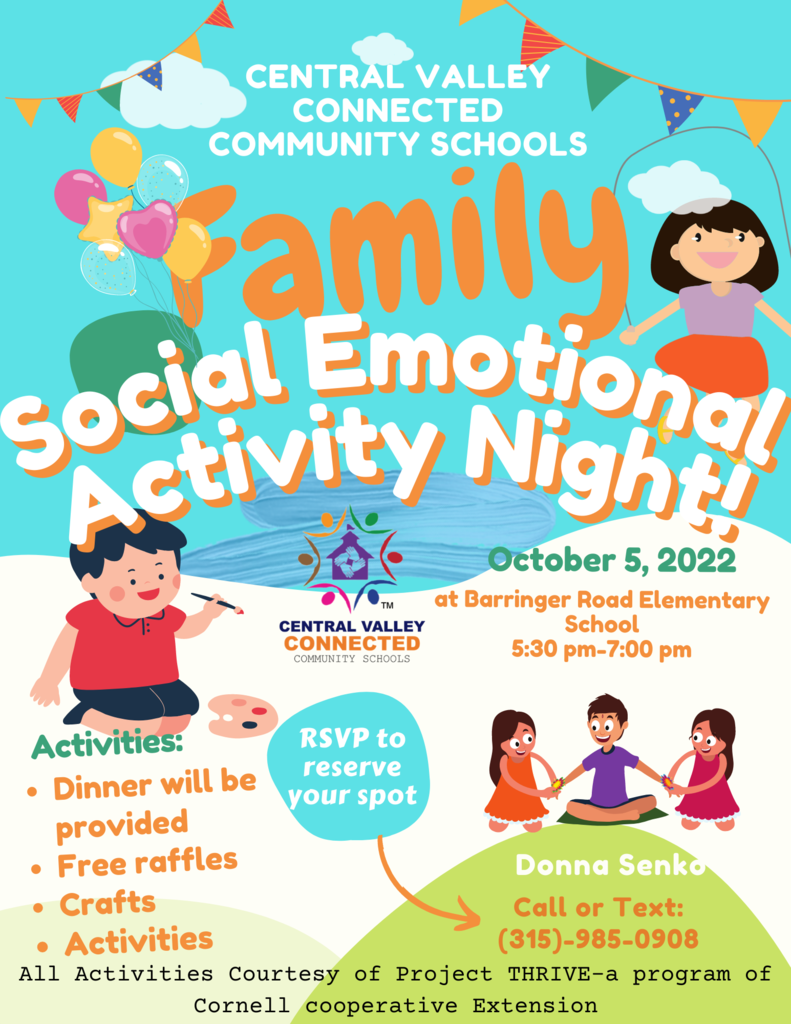 Tomorrow is the first day of classes for K-12. Our teachers and staff are excited to see all our students!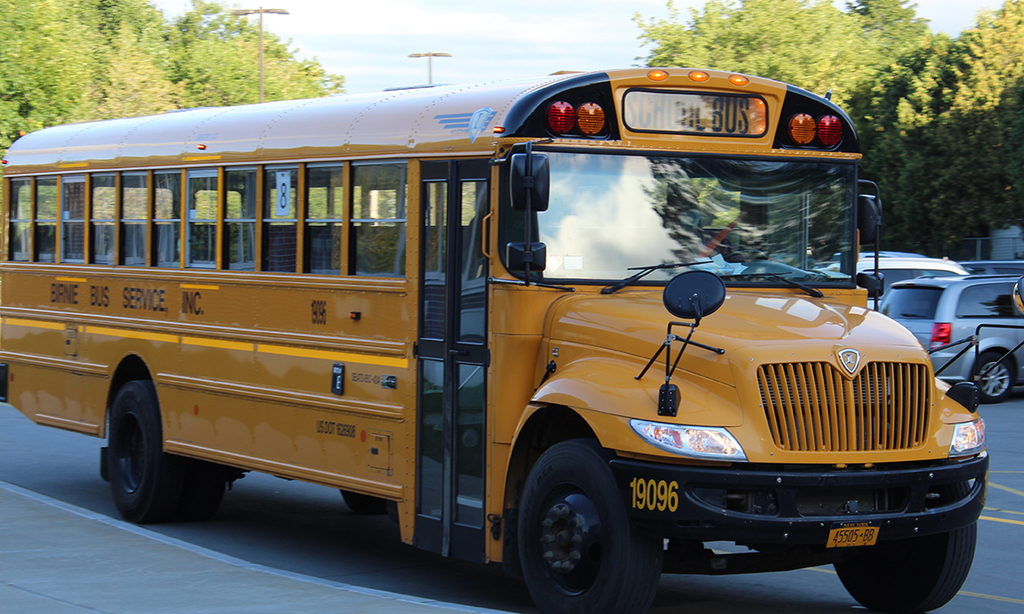 NYS now requires student athletes have a COVID-19 & family heart history form on file to practice and compete in interscholastic sports. Look for mailing to all students who signed up to play a fall sport. Didn't sign up or don't receive the form by 8/1, contact your school.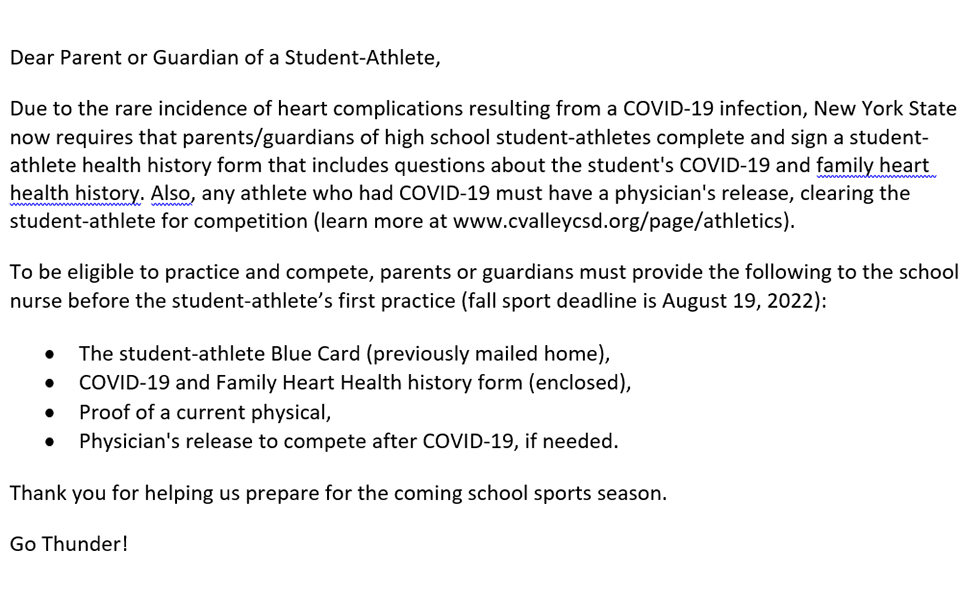 Central Valley is seeking a qualified individual for the position of Confidential Secretary to the Superintendent/District Clerk. This is a 12-month, non-union position. Applicants will submit a complete application packet, which includes a cover letter, resume, and Central Valley CSD application (attached to the job description) to Jeremy Rich, Superintendent of Schools. Deadline is Aug. 1, 2022. Job description and application link -
https://5il.co/1emag

Our SRO David Ball helped honor Barringer Road Library's top readers. Noak Vik (35 checkouts), Gabe Lawrence (32 checkouts), Gavin Cave (34 checkouts), Hazel Mosher (35 checkouts), and Oliver Fahey ( 34 checkouts) each received a new book, Stewart's ice cream and a sticker.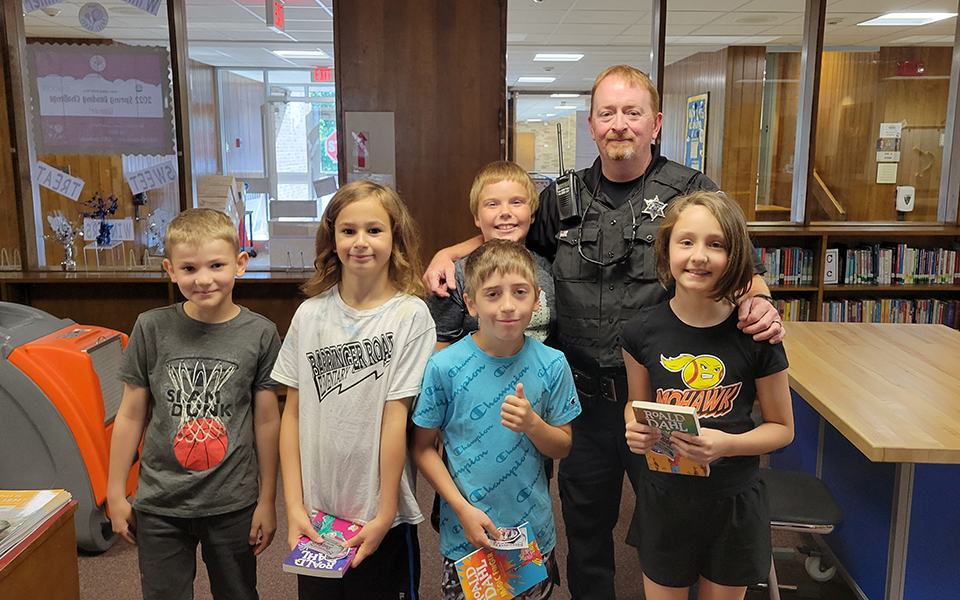 Reminder: Seniors should arrive for Graduation Rehearsal by 9:30 a.m. on Saturday, June 25 at the Adirondack Bank Center, 400 Oriskany St. Utica. As Mr. Keeler has explained, seniors must attend rehearsal in order to walk at graduation.

Reminder: If your student received medications administered by the school nurse during the school year, the last day to pick up those medications is Thursday, June 23. The nurse's office is open 7:45 a.m.-2:45 p.m. The nurse will dispose of any meds not picked up.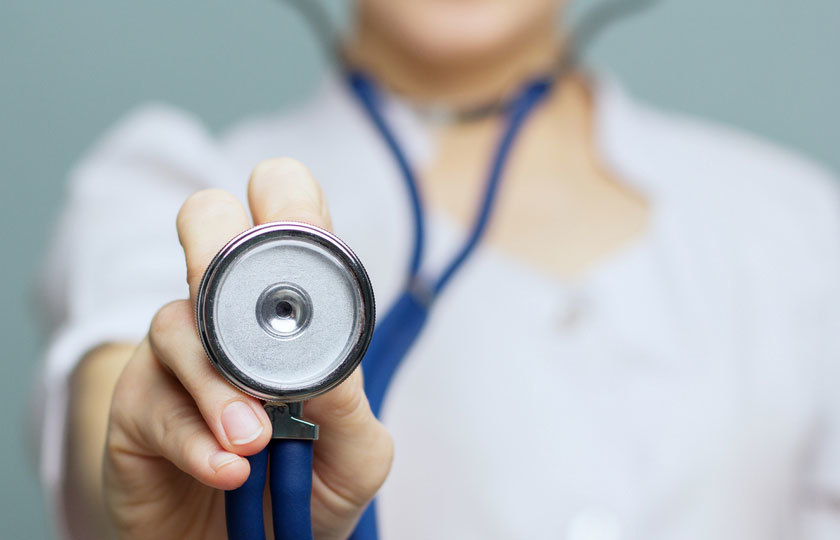 The Class of 2022 continues the CVA tradition of the Parade of Graduates. The class dons caps and gowns and parades through Fisher, Barring Road and Jarvis.
https://youtu.be/PJPMCVJ84Dw


The CVA Fitness Center will be open this summer Monday-Friday 5:30-8:30 p.m.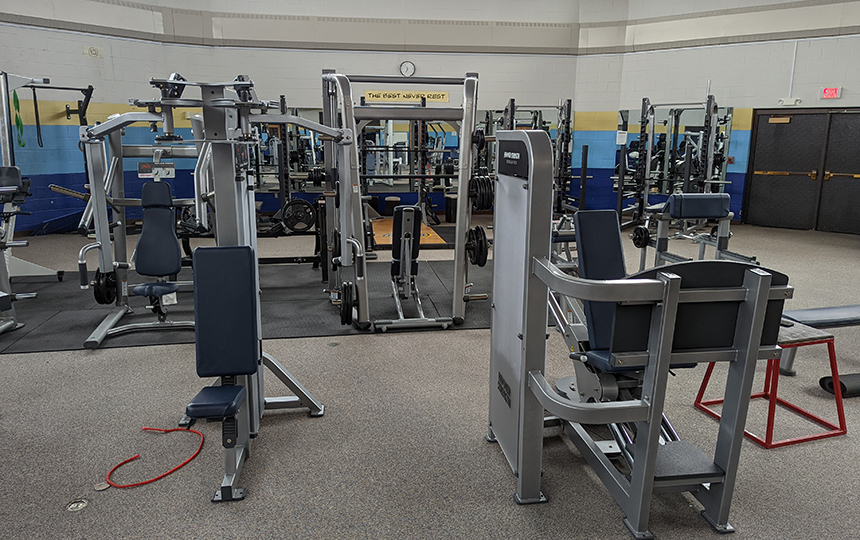 The CVA Writing Club donates proceeds of their annual fundraiser to support those in need. This year's unanimous choice was a Ukrainian Refugee Fund through the Slavic Pentecostal Church in Utica. Club members pictured with the $100 check are (back) Annamarie Lyman (president), Arionna Day (vice president), Adrian Palmieri, Tracy Palmieri, (front)) Samantha Noffer, Keegan Moss (Treasurer). Renee Whitton.

Jarvis Awards Assemblies will be: • 5th grade: Tue., June 21 at 8 am; • 6th grade: Tue, June 21 at 9:15 am; • 7th grade: Wed, June 22 at 8 am. Although the assemblies are for students only, parents can view them via Facebook Live (just click the Facebook icon at the bottom right of the District webpage).