https://www.facebook.com/Conne...Connected Community Schools shares its latest news:
The Community Resource Hub is open during school breaks,
An Easter Egg Hunt on Apr. 7
Make a spring craft on Apr. 11
Connected Community HUB is open during school breaks
Your school HUB is open during school breaks (confirm your school site's hours by reaching out to the school site coordinator:
Fisher and Barringer Road - Donna Senko at 315-985-0908 or donnas@connectedcs.org
Jarvis - Ed Czarnecki at 315-985-0185 or edc@connectedcs.org
CVA - Deb Weston at 315-985-5005 or debw@connectedcs.org or
There is a HUB located in each school building where you can find food, hygiene products and more. The Connected Community Schools team can also connect you with resources such as medical/mental heath, SNAP, Medicaid/other insurance, dental, housing, and more. Simply click this link to request assistance or talk to your school counselor or principal. Visit the Connected Community Schools website to learn more.
Join us for our Easter Egg Hunt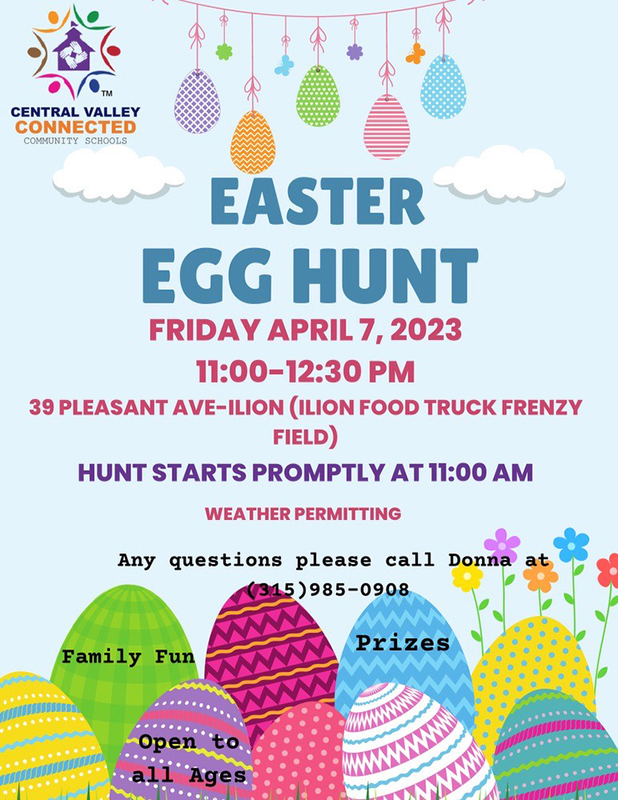 Connected Community School will hold an Easter Eg Hunt 11 a.m.-12:30 p.m. on Friday, Apr. 7 on the site of the Ilion Food Truck Frenzy (39 Pleasant Ave., Ilion). This event is open to all ages. Expect tons of family fun and prizes. The hunt begins promptly at 11 a.m., so don't be late. Questions? Call Donna at 315-985-0908. The event is weather permitting, so if in doubt, check the CCS Facebook page or call Donna.
Spring craft at the library
Looking for something fun to do over Spring Break? Just stop in at the Ilion Free Public Library, 78 West St, Ilion at 2 p.m. on Tuesday, Apr. 11. Join Connected Community Schools staff to make a Spring craft. All materials are provided.