Jarvis Middle School hosted a schoolwide Career Day on Friday, Oct. 28. The program, sponsored by Herkimer BOCES School to Careers (STC) program, featured representatives from area businesses who spoke to students about career opportunities in their field.
Frankfort-Schuyler Superintendent Joseph Palmer was the day's featured speaker. Palmer has written a character education book for young students. In his talk, he stressed the need for five core values—pride, respect, responsibility, trust and citizenship.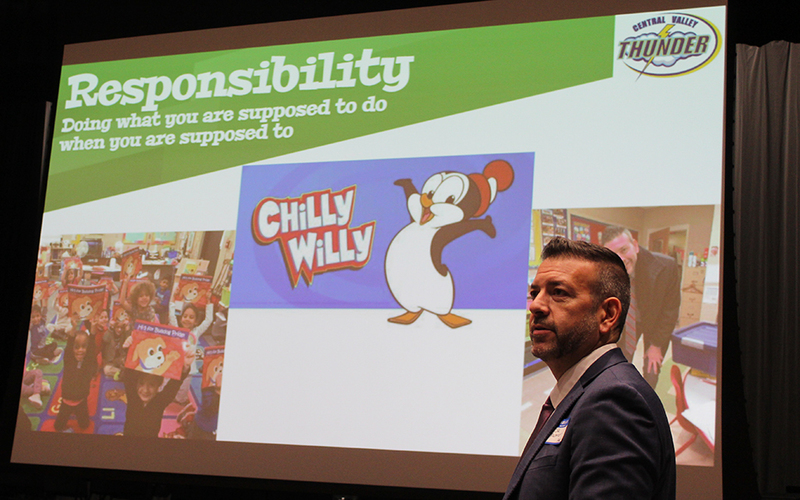 When not listening to Palmer, students were migrated between classrooms listening to a wide variety of association and businesspeople representing their fields.
Click here to see some photos of the presenters.
In the sessions, speakers explained careers and detailed the education and/or experience needed to find a job that field. Most set aside a few minutes for students to ask questions. Careers paths included the fields of:
Agriculture, Food and Natural Resources
Architecture and Construction
Arts, Audio Visual Technology and Communications
Business, Management and Administration
Education and Training
Finance
Government and Public Administration
Health Science
Hospitality and Tourism
Human Services
Information Technology
Law, Public Safety, Corrections and Security
Manufacturing
Marketing, Sales and Service
Science, Technology, Engineering and Math
Transportation, Distribution and Logistics
School To Careers is a partnership developed by Herkimer-Fulton-Hamilton-Otsego BOCES among schools and businesses in the region with a goal of connecting students to jobs in the area through workshops, internships, partnerships, and planning. STC Liaison MaryBeth Napolitano and STC Counselor Roberta Roberts coordinated the day with Jarvis Guidance Counselor Shannon Buttacarolli.