From Coach McKinley & Coach Prue: Fisher PE classes will be going outdoors Jan 30-Feb 3! Please send outdoor clothing (coat, snow pants, hat, gloves, scarf, etc.) on days when your student has PE. We will do our best to accommodate students without warm clothing.

CV Connected Community Schools & Cornell Coop Ext present "Nutrition Around the World" 5:30 p.m. on Tues., Jan. 24 at Barringer Road. Learn about healthy eating around the world, fun activities, food demonstrations, food samples. Free to all CV families. RSVP Donna 315-985-0908 call or text.

Central Valley CSD will be closed Friday, Dec. 16 in anticipation of the weather.

Reminder: Wednesday, Dec. 14 is a half day at Central Valley for staff professional development. Grades 5-12 dismiss at 10:45 a.m. Grades PK-4 dismiss at 11:15 a.m.

Two important Connected Community Schools events open to all school parents: 1) Tues.., Dec. 6 @ 6 pm Snap-Ed presents Healthy Eating & 2) Wed., Dec. 7 @ 7 pm the Parent Academy presentation on "Stress Management" Both events at Jarvis Middle School

Central Valley Connected Community Schools will sponsor a Family Game Night 5:30-7 p.m. on Tues., Dec. 6 at Fisher Elementary. Snacks & drinks provided. RSVP to Donna by Dec. 1 at 315-985-0908.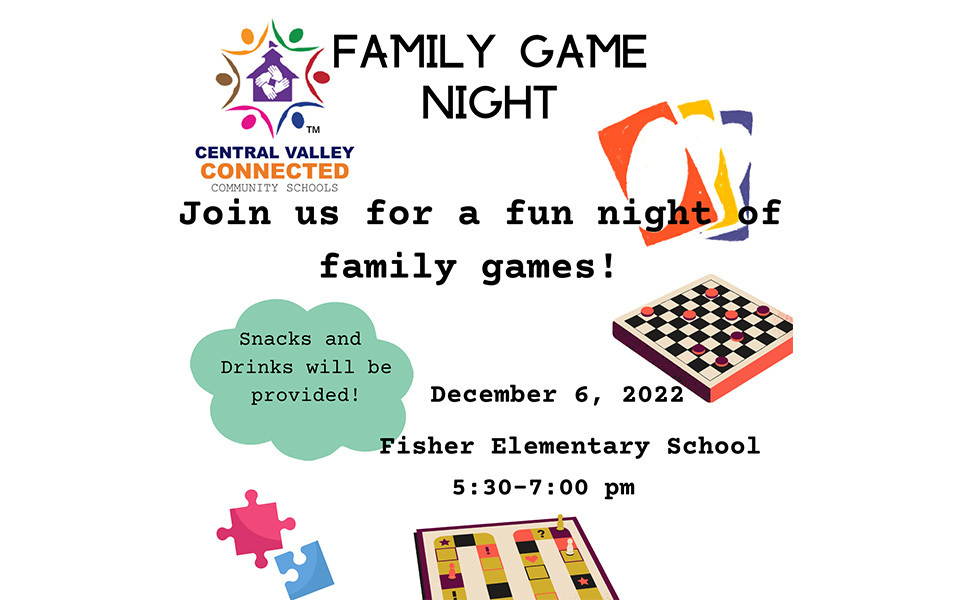 Congratulations Barringer Road 2nd grader Axl Smith on winning the CVCSD Foundation's 2022 Turkey Trot t-shirt design contest!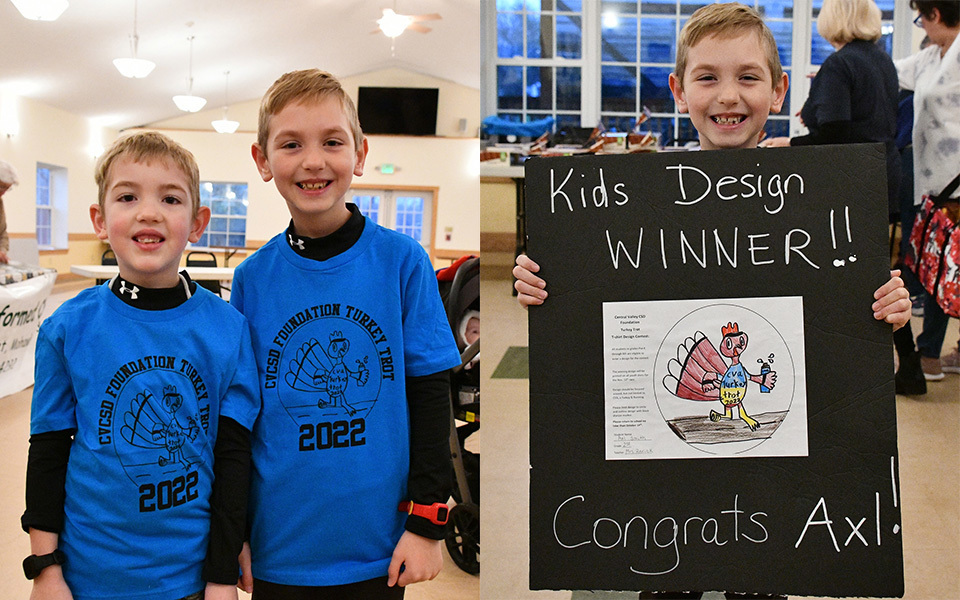 Central Valley CSD is on a two hour delay due to travel conditions.

Friday, Nov. 11 is Veterans Day - there is no school. Take a moment to thank a vet for his or her service.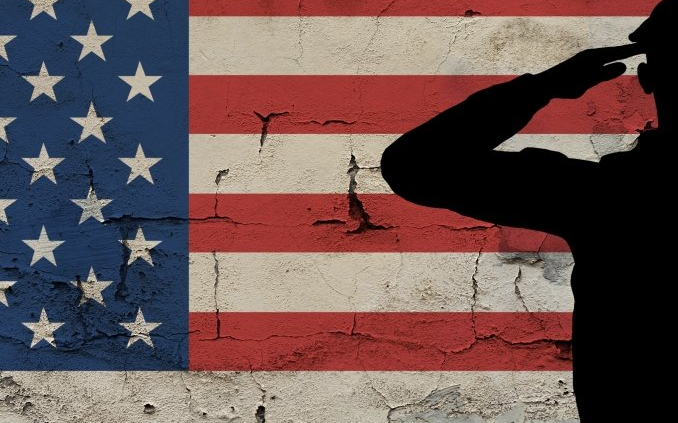 Central Valley Connected Community Schools' next Parent Academy is 7-8 p.m. Wed. Nov. 2 at Jarvis. Open to all CV parents PK-12. SNAP-ed will present "Healthy Eating on a Budget." Includes a cooking demonstration. RSVP appreciated at 315-985-0185.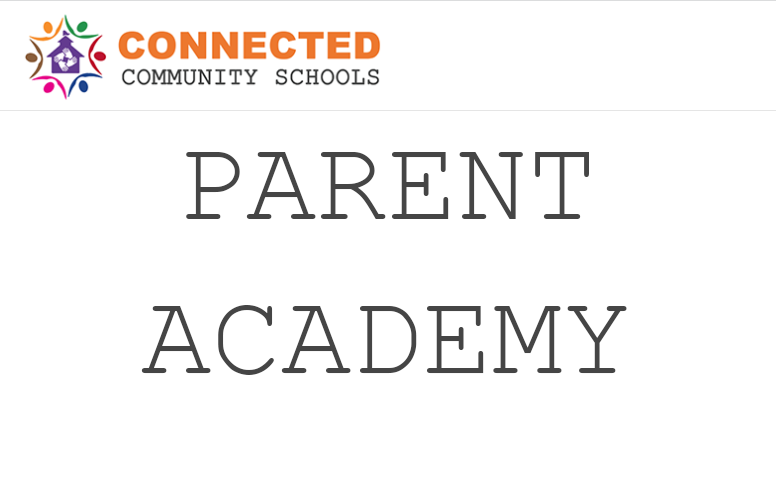 The CVA Athletic Leadership Council invites 3-6 graders to "Game Day" 1:30-3 p.m. on Sat., Oct. 15 at the CVA turf field. Athletes will join in kickball and other games with your children. Grab a photo of your child with their favorite CVA athlete. Just drop off your child for a fun afternoon with CVA's athletic leaders. Cost is $5 or any donation.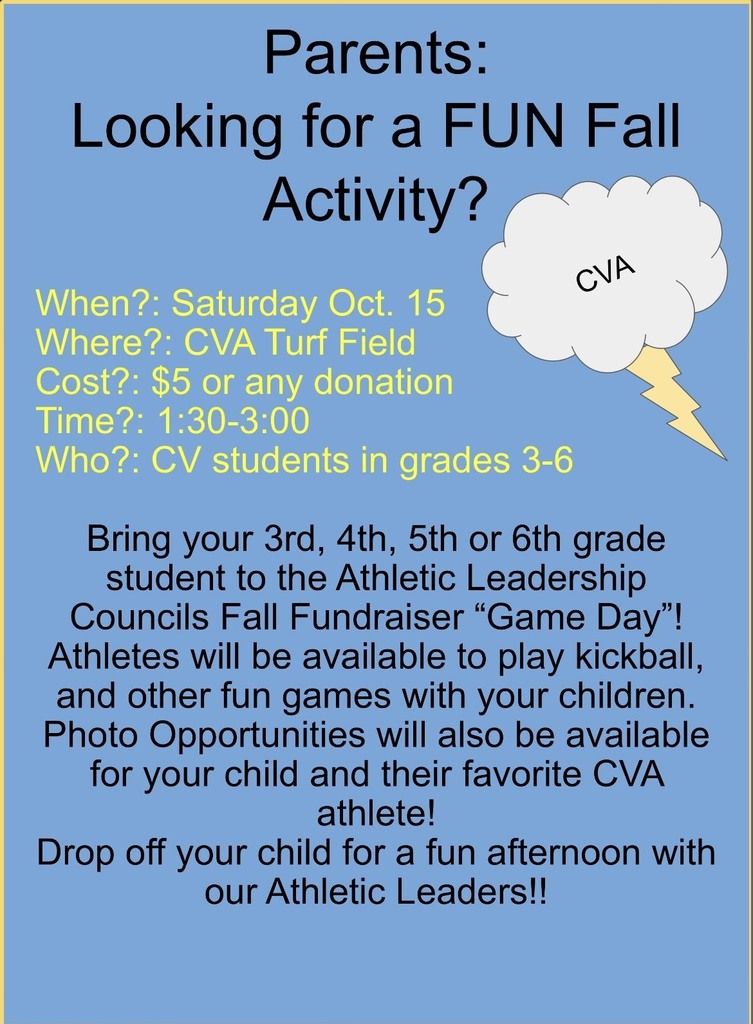 Internet Safety Training for parents/guardians 6 p.m. on Tues., Nov. 1 in CVA LGI (big gym entrance). Social media, apps, sexual exploitation, Internet safety tips, resources. Offered by Safe Harbour of Herk. County. RSVP
tmoney@ccherkimer.org
.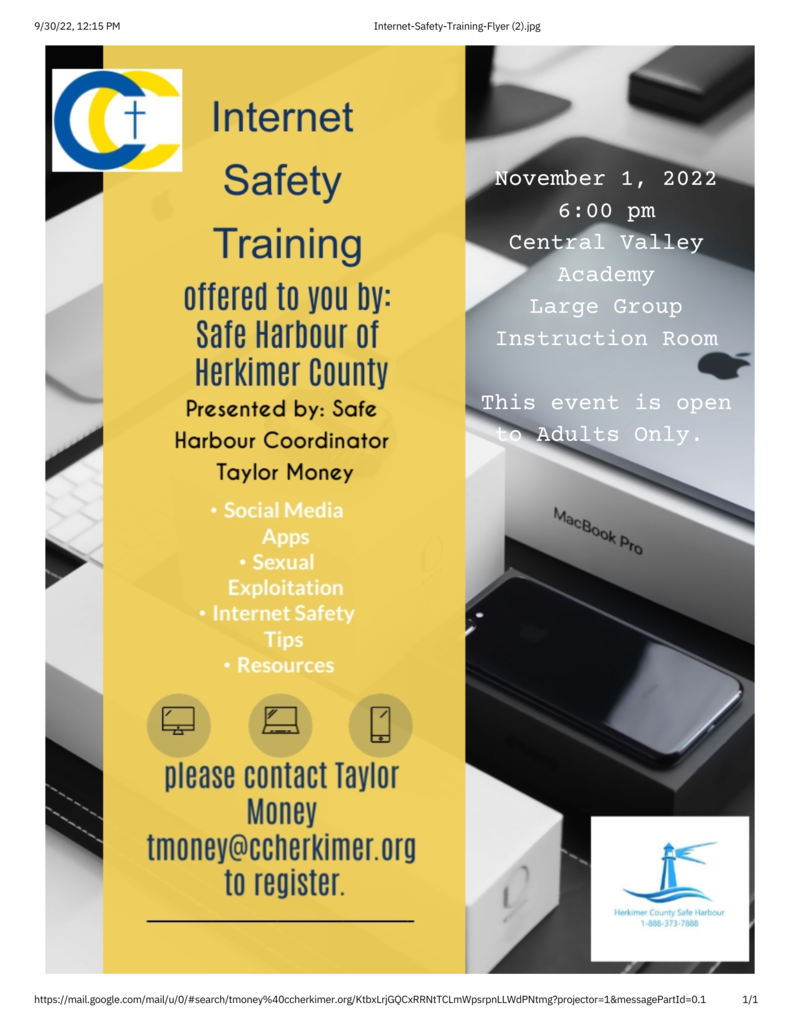 Come trick or treat at CV Connected Community School's free "Trunk or Treat," 5:30-7 p.m. on Thur., Oct. 27 in the Jarvis rear parking lot. Questions or to sign up your trunk - contact Ed at 315-985-0185.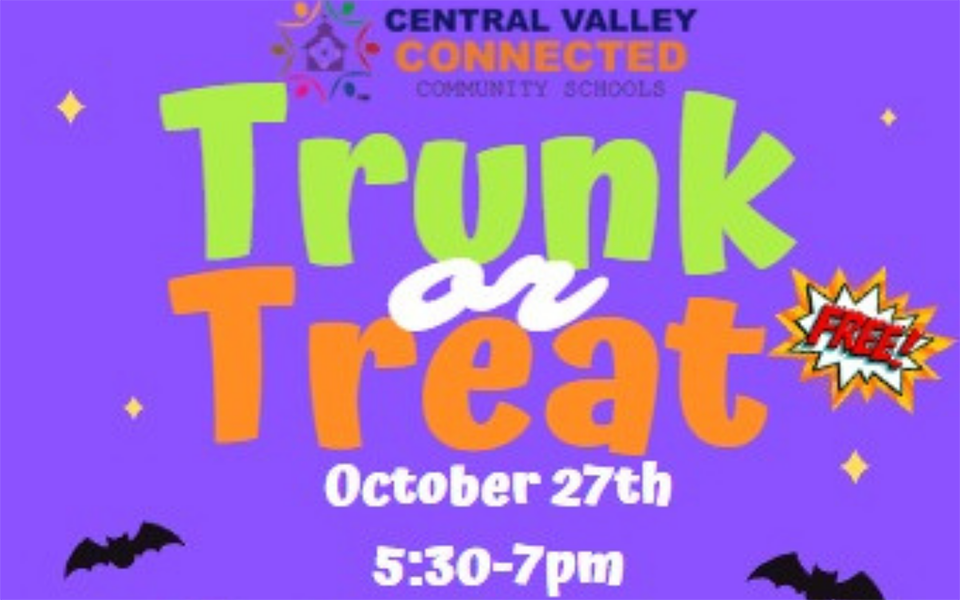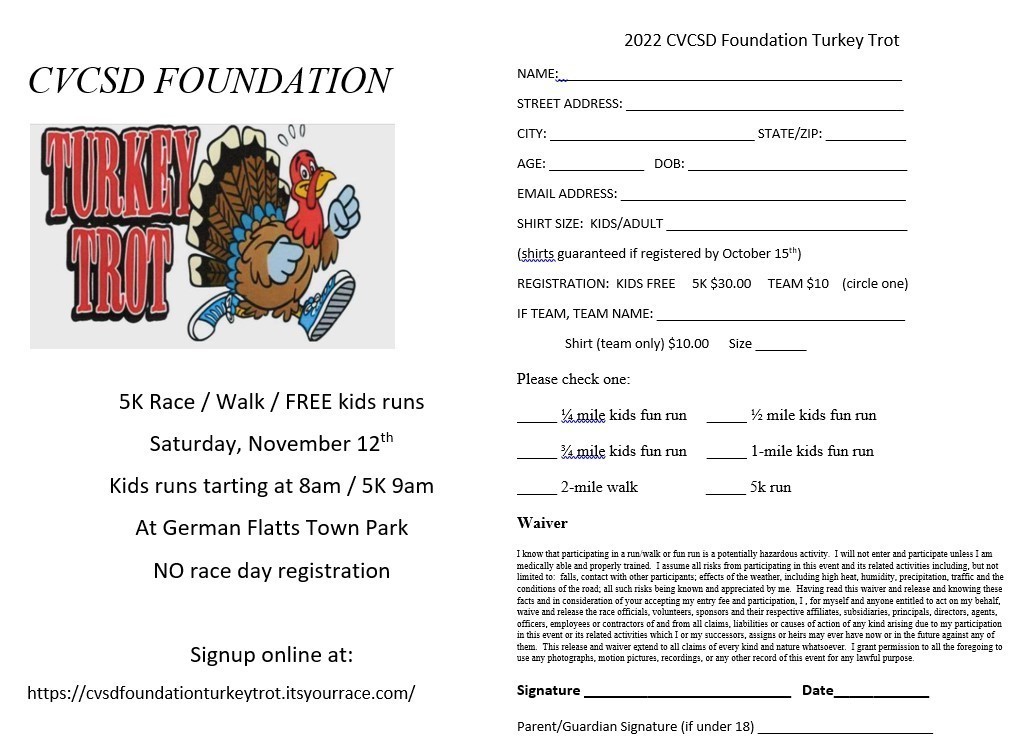 Family Social Emotional Activity Night 5:30-7 p.m. on Oct. 5 at Barringer Rd. Elementary. Free—dinner, raffles, crafts, activities. RSVP 315-895-0908. Presented by CV Connected Community Schools and Cornell Coop. Ext. Project Thrive.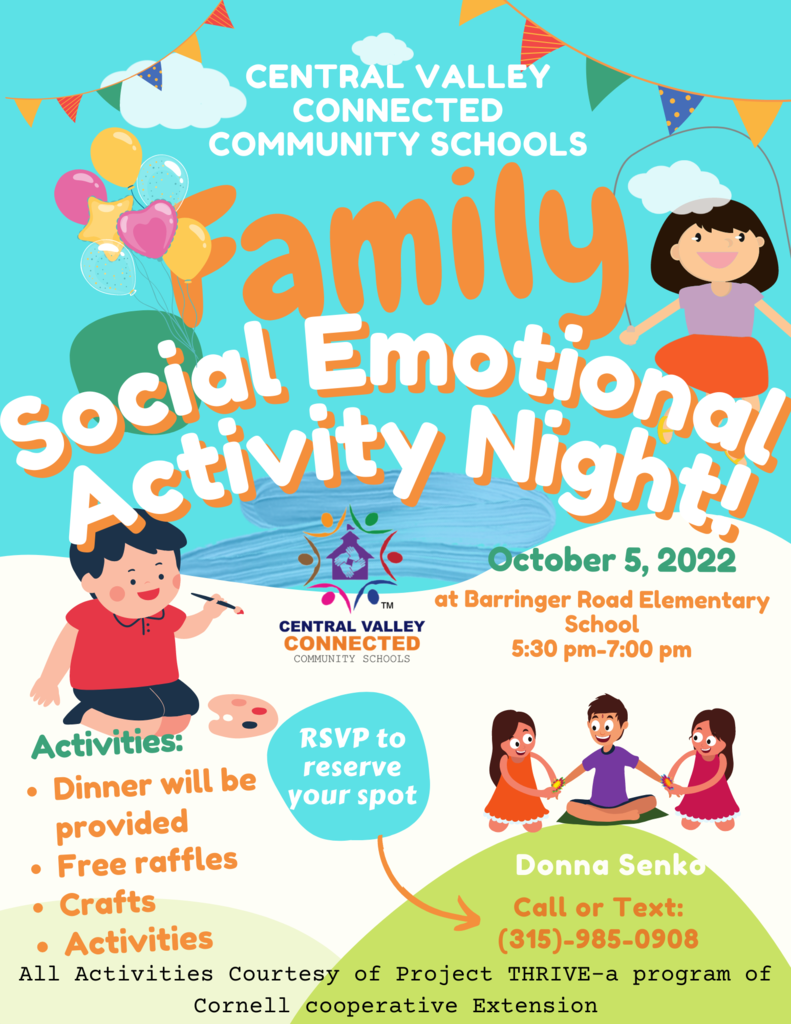 Tomorrow is the first day of classes for K-12. Our teachers and staff are excited to see all our students!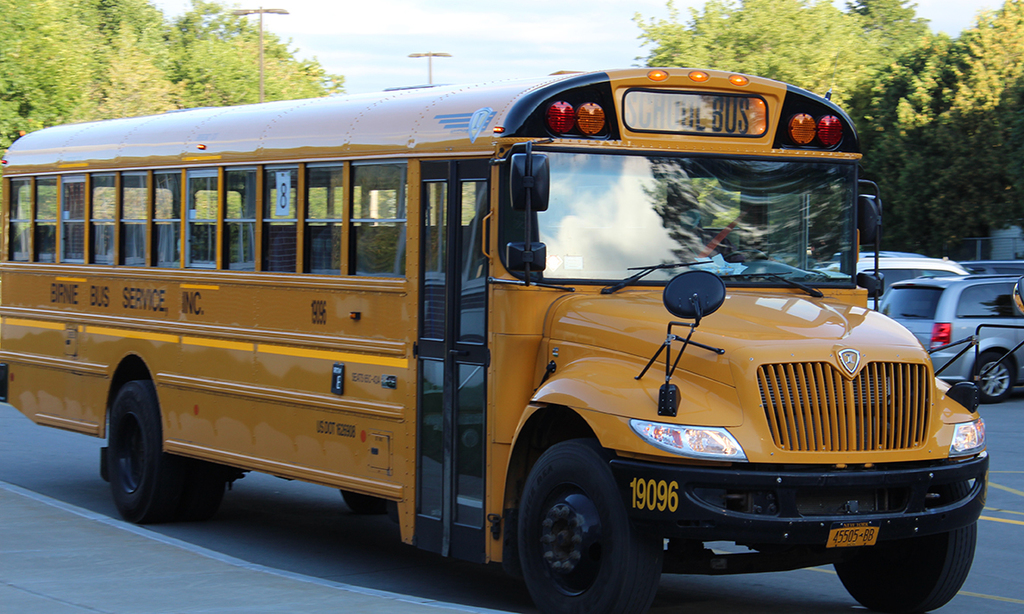 Central Valley is seeking a qualified individual for the position of Confidential Secretary to the Superintendent/District Clerk. This is a 12-month, non-union position. Applicants will submit a complete application packet, which includes a cover letter, resume, and Central Valley CSD application (attached to the job description) to Jeremy Rich, Superintendent of Schools. Deadline is Aug. 1, 2022. Job description and application link -
https://5il.co/1emag

Reminder: If your student received medications administered by the school nurse during the school year, the last day to pick up those medications is Thursday, June 23. The nurse's office is open 7:45 a.m.-2:45 p.m. The nurse will dispose of any meds not picked up.