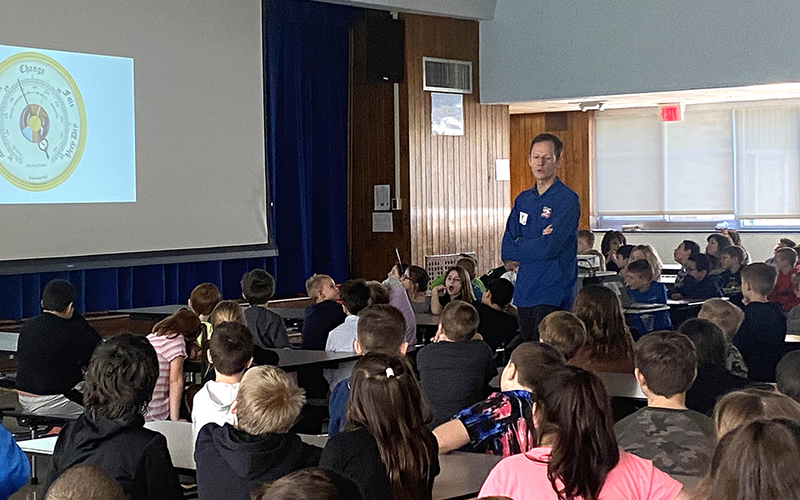 On Wednesday, Feb. 8, StormTracker 2 Chief Meteorologist Bill Kardas visited the third grade at Barringer Road.
Over the course of an hour, he talked about different types of severe weather such as blizzards, tornados, and lightning. Students learned that a blizzard must have both snow and strong winds. A tornado is a violently rotating column of air that touches the clouds and the earth. Lightning is the sudden movement of an electric charge from the sky to the earth.
He discussed various tools used to measure and track weather including a simple barometer and sophisticated satellites.
After his presentation, he answered students' questions such as:
What was the largest tornado ever recorded? More than two miles wide.
Can a tornado go up a hill? Yes.
Can a hurricane and a tornado combine? Hurricanes can produce tornados.
How do they check the weather in other countries? They use satellites.
What does the red mean on the Doppler radar? Heavy rain.
Mr. Kardas' visit ties in with the third grade science units about weather.
"We learn about different weather instruments and how they're use," said third teacher Diane Kosakowski.
"We also talk about different types of weather. Later in the year we will do more research on severe weather and use it for our informational writing unit as well."
His visit also helped students make the connection between what they learn in class with what people do in their full-time jobs.

"We hope Mr. Kardas may have encouraged some future weather chasers," said Mrs. Kosakowski.